EVENT BOOKED OUT. NEXT F&I EVENT NOVEMBER.
Hot Yoga | Breathwork | Ice Baths | Plant Based Feast
The Breath Collective + Pilgrim Hot Yoga 
Sunday 12th September, 8:45am – 2:30pm
All Inclusive Ticket Price $195
Take a long deep breath into the belly… hold your breath for a moment… breathe out slowly and softly. Feels good right??  
The idea of Breathwork is simple: when you change the way you breathe, you change the way your body functions on a chemical level. 
Yoga, Breathwork and Cold Therapy are all powerful ways to combat stress, build resilience and begin to rewire neural pathways. Pilgrim Yoga and The Breath Collective, join forces to deliver a transformative half-day retreat. 
Experience a natural way to manage your stress, combat depression and anxiety, increase your energy levels, strengthen your mindset, and greatly improve your sleep, through the TUMMO Breathwork pattern (made famous by Wim Hof).
In this dynamic half day retreat we invite you to a day of self discovery and wellness.
Combine Hot Yoga, Breathwork and Cold Water Therapy to potently conquer limiting self-beliefs, optimise health and reconnect to inner strength. 
Fire & Ice Retreat Schedule

8:45am

Retreat Welcoming

9am

HOT YOGA: Pilgrim's Tradition Sunday Roast Hot Vinyasa. Sunday Roast is a dynamic class, practised in a far infrared heated room, where the connection between breath and movement is maintained throughout. Sunday Roast followed by indoor and outdoor showers.

10.30am

CACAO CEREMONY: You will feel the grounding and heart awakening effects of 100% pure, organic Peruvian Cacao as we ease into a potent workshop which will focus on healing and awareness of body and mind. (Cacao is vegan).

11am

LEARN THE SCIENCE: Hear the history; what research has to say about these powerful practices; and how you can apply it to your daily life in a practical and accessible way. 

11.30am

BREATHWORK: Learn the Tummo Breath pattern (made famous by Wim Hof) in a supportive, group setting, lie down and experience the power of the breath.

12:30pm

ICE BATHS: Take the plunge, submerge your body in an ice bath and conquer limiting beliefs. Not once, not twice but three times, gaining valuable knowledge with each round.

1:30pm

LUNCH: Replenish and share your personal experience of the event during a nourishing plant-based community lunch.  

2:30pm

Closing Ceremony.

What to bring: 

Please bring an open mind, clothes suitable for hot yoga, yoga mat and towel, comfy gear for between yoga and ice-baths, swim gear and towel plus a warm change of clothes for afterwards. Studio yoga mats available for complimentary use.
---
Benefits of Breathwork:
Reduced stress, improved digestion, better sleep and alleviated symptoms of depression and anxiety. 
Combine Breathwork with Ice Baths and you have just "bio-hacked" your body, thereby turbo-charging your immune system, raising your energy levels, improving mood, heightening libido (hubba-hubba), burn hundreds of calories, drastically reduce inflammation in your body and raise your energetic vibration.
Benefits of Hot Yoga:
Hot Yoga offers the same benefits as the ancient practice of traditional yoga; stress reduction, more energy, brighter mood, connection with a like-minded community, improved strength, and flexibility. The comfort of a hot Far Infrared Yoga, helps relax your mind, body and lowers your stress hormones while stimulating your lymphatic system to eliminate the toxins from your body and optimise organ functionality.
Benefits of Cold Water Therapy:
Step out of your comfort zone and achieve something you never thought possible. Take the plunge, submerge your body in an ice bath and conquer limiting beliefs. Invoke your inner strength and benefit by increasing both physical and mental resilience.
If you want to join the fast-growing community of people who are first-hand feeling the healing of this ancient practice, this event is for you. No prior experience of Yoga, breath, or ice needed. 
This workshop welcomes anyone who is just starting their journey as well as anyone who wants to gain deeper knowledge into these two effective modalities. Participants must be aged 16 and up. 
Check out what our community is saying:
---
Your Facilitators: Anna & Chris founders of The Breath Collective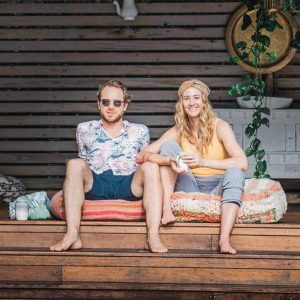 We are a couple, Anna & Chris, and we have followed our passion for health, happiness and strength and it led us to discover breathwork. Our mission is to EMPOWER you to grab life by the horns and heal yourself. We can help by showing you some of the amazing things your body can do. Between the two of us, we've got you covered by acknowledging your physical, mental and emotional health. 
Anna is a trauma-focused Psychotherapist and Yoga Teacher, Chris is a Remedial Massage Therapist and Hot Pilates Instructor AND we are both qualified Breathwork Facilitators. 
The Breath Collective is our passion project! We want to teach people how to use breath to help heal all manner of health issues which seem to be running amok in our modern world – stress, anxiety, depression, irritable bowel syndrome, chronic fatigue, sleep difficulties the list goes on. Our events are a fusion of our individual expertise with a balance of theory and experiential practices.
We believe that with a bit of knowledge and guidance, we can become our own healers.  What we love about these practices is that once you've learnt the technique, you have an effective tool at your fingertips, and the best part … breathing doesn't cost a cent. 
---
A little bit about Pilgrim Hot Yoga: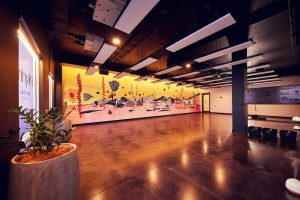 Pilgrim offers a diverse range of yoga, movement, animal flow, and pilates classes taught with integrity. The studio is an urban heated space in the heart of the hustle, Town Square Fish Lane. Our teaching ethos promotes a positive mind in a strong body and a powerful path to your best you.  Pilgrim provides members a sanctuary from demons and an invigorating path to a powerful and positive mind.
With 27 Far Infrared heating panels, Bose ceiling mounted speakers and subwoofers plus our infamous post-inferno rain garden, Pilgrim Hot Yoga provides a daily inner city escape to within.